Camino de Tokyo, hicimos escala en París y nos entretuvimos
visitando los sitios más típicos, como la Torre Eiffel y el Museo de
Louvre.
On our way to Tokyo, we made a stop in Paris and we had fun visiting some
of the most important places in the city like the Eiffel Tower or the
Louvre Museum.

Lo primero que te llama la atención al llegar a Japón son los WC
que usan allí, parece que te estás sentando en una nave espacial. Atención
especial merecen esos chorritos hacia los orificios corporales...
The first thing that catches your attention upon arriving are the toilets,
it looks like you're sitting on a spaceship or something. You should feel
that water steam...

Ahí estoy en el barrio de Akihabara, que es el paraíso para todo
aquel que quiera comprar algún aparato electrónico, un figurita, un comic,
un videojuego, o lo que sea...
Here I am in Akihabara, the "electrict town", a perfect place if you want
to buy any electronic item, a comic, a videogame, a toy or whatever...

Aquí estoy en la calle central de Akihabara, con un centro Sega a
mi espalda. Ahí dentro le gané 3 rondas seguidas a un japo jugando online
al "Street Fighter 4"... cómo mola.
Here I am at the main street of Akihabara, with a Sega center behind me.
Here inside I won a japanese playing online to "Street Fighter 4", cool...
En el barrio de Asakusa nos pillamos este taxi, que iba tirado
por una japonesita, no veas...
In Asakusa we took this taxi that was pushed by a girl... wow...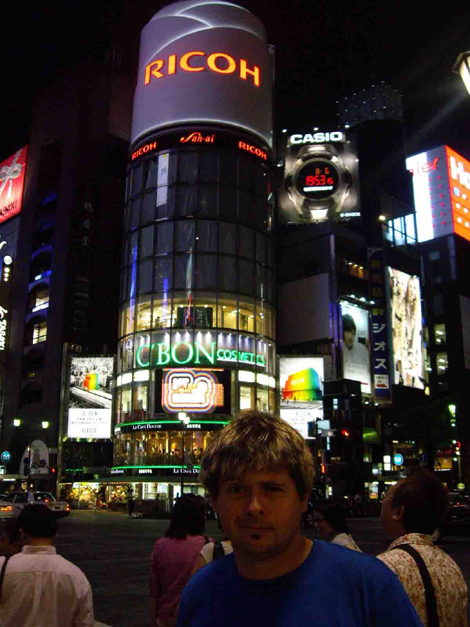 Aquí estoy en el famoso cruce del céntrico barrio de Ginza, muy
cerca de mi hotel.
Here I am at the famous crossing street in Ginza, very close to my hotel.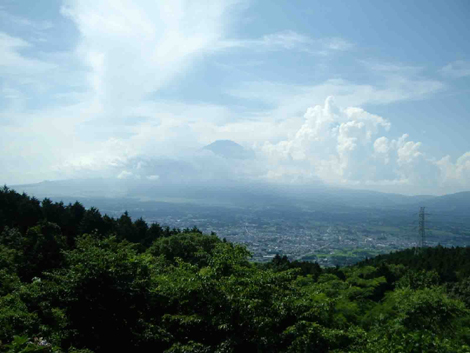 Aunque costó trabajo, al volver de nuestra excursión al Monte
Fuji por fin pude ver la cima, aunque no está nevada que mola más, pero es
que estábamos en pleno verano. Ah, y por cierto, con tanta niebla no pude
ver el Instituto de Investigación Fotoatómica, ni a Mazinger ni a Koji
Kabuto, pero seguro que andaban por allí.
It was very hard, but finally, when we were back on our trip to the Mount
Fuji, we saw the top of the mountain, there's no snow because it's summer.
By the way, being so much fog, I couldn't see neither the Fotoatomic
Research Institute, nor Mazinger or Kabuto Koji, but I'm sure they were
all over ther.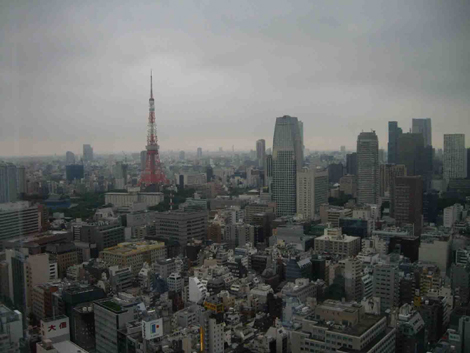 Esta es la vista desde el ventanal de mi hotel, el Park Hotel
Tokyo, en la planta número 30, molaba mucho.
That's the view from the window of my room on the 30th floor of the Park
Hotel Tokyo.

De vuelta en Akihabara, junto a Gran Mazinger en la puerta de
una tienda donde vendían figuras de Mazinger, y donde me compré algunas...
Back in Akihabara, next to Great Mazinger on the door of a shop where many
Mazinger collectibles' toys were on sale, and where I bought many of them.
Comiendo sushi, bueno, bonito y muy barato. En serio.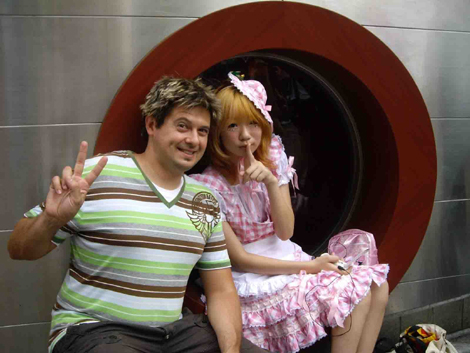 En Harajuku con las góticas lolita, como la que está junto a mí,
¿no son una monería?
In Harajuku, with the gothik girls, like this one, isn't she cute?

De paseo por el Parque de Amarikiu, otro parquecito más... muy
bonito por cierto.
Walking by the Amarikiu Garden, so beautiful.




Dando una vuelta en barco por la bahía de Tokyo... y con ganas
de volver a Spain!

Disfrutando del amanecer en el país del Sol Naciente, mientras
escucho a Papa Roach en mi iPhone. A las 5 de la mañana ya era totalmente
de día. Ea, al aeropuerto y vuelta a casa... estuvo bien mientras duró.
Enjoying the dawnin the Rising Sun country, while I hear Papa Roach on my
iPhone. At 5 am, it was totally daylight. Well, to the airport and let's
go back home. It was great while it lasted.
© WEB OFICIAL DE JULIÁN LARA. TODOS LOS DERECHOS RESERVADOS.
1024 x 768 pixels. Internet Explorer / Netscape: versión 4 o superior. Webmaster: José Antonio Monge - www.Planeta5000.com