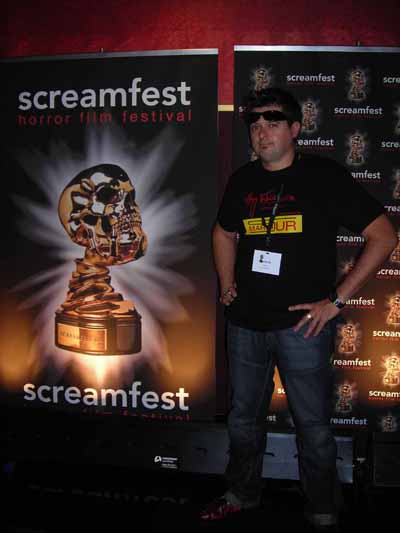 En el Screamfest, en el Teatro Chino de Hollywood.
At the Screamfest, in the Chinese Theatre in Hollywood.
Junto al póster de "Killing Twice" en el Screamfest.
Right next to the poster of "Killing Twice" at the Screamfest.
Con Sam Raimi en el preestreno de "30 días de noche" en el Teatro Chino de
Hollywood, el 16 de octubre.
With Sam Raimi, in the world premiere of "30 days of night" at the Mann's
Chinese Theatre in Hollywood, on october 16.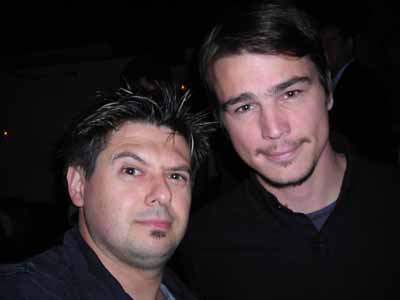 Con Josh Harnett, en el after party de "30 días de noche" en The Garden of
Eden, en Hollywood.
With Josh Harnett, in the after party of "30 days of night" at The Garden
of Eden, in Hollywood.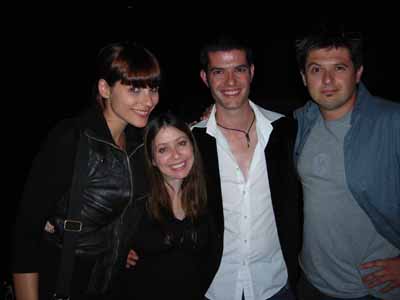 En la clausura del Screamfest, con Rachel Belofsky, la directora del
festival, y con Víctor García y su novia.
Y al día siguiente me volví para Spain!!!
At the closing night of the Screamfest, with Rachel Belofsky, the director
of the festival, and Victor Garcia and his girlfriend.
And the next day I went back to Spain... But "I'll be back"!!!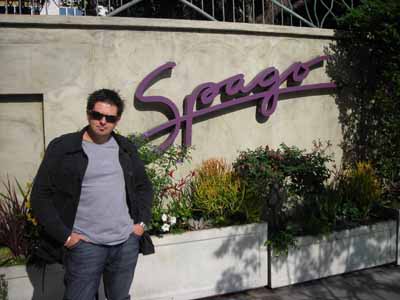 También tuve tiempo de pasarme para almorzar por el famoso restaurante
Spago, en Beverly Hills.
I also had the time to go eating at Spago, in Beverly Hills.
Este coche estaba aparcado en el otro hotel donde estuve alojado, el
Hyatt, y no tengo ni puta idea de qué coche es... pero mola un huevo. This
car was at the parking lot of the other Hotel I was after the Roosevelt,
the Hyatt, I don't know car kind of car it is, but it's pretty cool.
Con Don Coscarelli, que andaba por el Screamfest.
With Don Coscarelli, who was at the Screamfest.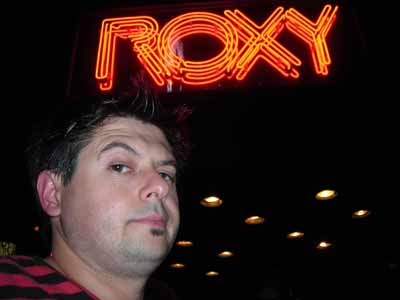 También hubo tiempo para tomar unos Jack Daniel con Cola (y una rodajita
de limón), esta vez me pasé por el Roxy y el Key Club, en Sunset.
There was time too for having a few Jack&Cokes (and a slice of lemon), and
this time I went to the Roxy and the Key Club, both in Sunset.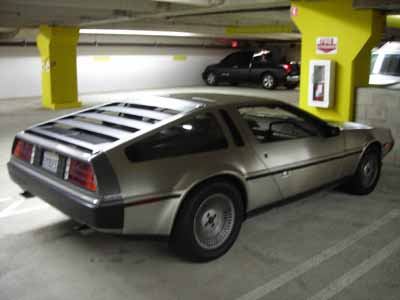 He aquí un DeLorean, como el de "Regreso al Futuro", pero sin el
condensador de fluzo...estaba aparcado en el Hollywood&Highlands.
Here you are a DeLorean, as seen on "Back to the future", but without the
temporary condenser... it was at the parking of Hollywood&Highlands.
Aunque mi favorito es el Lamborghini, no puedo ignorar cochazos como este
Ford GT, que estaba en el parking del primer hotel donde me quedé, el
Hollywood Roosevelt, en Hollywood.
Even my favourite cars are Lamborghini, I must recognize what a good car
is this Ford GT, that was in the parking of the first hotel I was lodge,
the Hollywood Roosevelt, in Hollywood.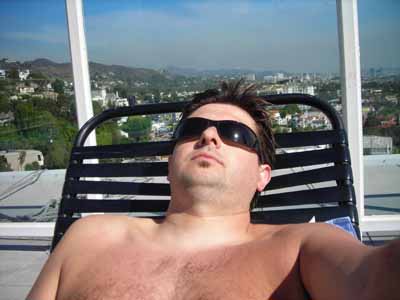 Entre Festival y Festival siempre es importante relajarse un poco. Aquí
estoy en la piscina de la azotea del hotel Hyatt en West Hollywood. Al
fondo se puede ver Sunset Blvd.
Between Film Festivals, there's important to take a while for relax. Here
I am at the swimming pool at the rooftop of the Hyatt hotel in West
Hollwood. On the background you can see Sunset Blvd.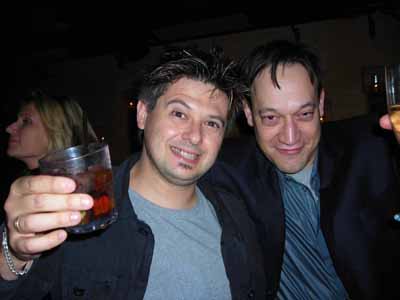 Con Ted Raimi en el after party.
With Ted Raimi at the after party
Con el director de "30 días de noche", David Slade, y uno de los vampiros
de la película.
With David Slade, the director of "30 days of night" and one of the vampires.