JULIAN LARA WAS ATTENDING THE WORLD PREMIERE OF "KNIGHT AND DAY" IN THE LOPE DE VEGA THEATRE, SEVILLA, ON JUNE 16TH, 2010. ALSO ATTENDING THIS SPECIAL SCREENING WAS TOM CRUISE, CAMERON DÍAZ, JORDI MOLLÁ AND DIRECTOR JAMES MANGOLD, AMONG A LOT OF THE SEVILLIAN HIGH SOCIETY.
JULIAN LARA WAS ATTENDING THE CEREMONY AWARDS OF THE SPANISH CINEMA
ACADEMY, THE GOYA AWARDS, ON FEBRUARY 14TH, WHERE HE COULD MEET WITH
FRIENDS LIKE ANDRÉS PAJARES, DIANA PEÑALVER, LOLA DUEÑAS, JUAN ANTONIO
BAYONA OR FERNANDO TRUEBA.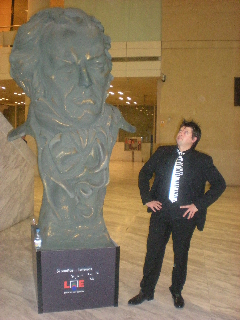 JULIÁN LARA WAS ATTENDING THE JOSÉ MARÍA FORQUÉ AWARDS, HELD IN MADRID
IN JANUARY 28TH.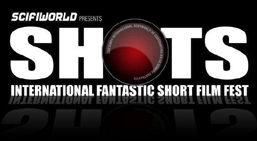 CARMILLA, AROA GIMENO, JULIÁN LARA, PAUL NASCHY Y ÁNGEL SALA
CARMILLA A PUNTO DE MORDER A JULIÁN LARA, CON EL SCIFIWORLD DE ABRIL
EN SUS MANOS
JULIÁN LARA Y JOSÉ MANUEL SERRANO CUETO
JULIÁN LARA, PAUL NASCHY, AROA GIMENO Y ÁNGEL SALA
JULIÁN LARA, ÁNGEL SALA Y ENRIQUE DEL POZO
Julián Lara with Rafael Amargo on the premiere of the biopic
"Ecléctico". July 2nd 2008. Madrid
-Estreno de "Killing Twice" en Alcalá de Guadaíra el sábado 24 de
noviembre y la posterior fiesta en Cavaly.
"KILLING TWICE" SE PROYECTÓ EN EL FESTIVAL DE CINE DE SEVILLA EL PASADO
SÁBADO 3 DE NOVIEMBRE, EN LOS CINES NERVIÓN PLAZA.
www.festivaldesevilla.com/2007/texto.php?codigoelemento=44&tabla=textos&item=81&idmenu=4
Julián Lara asistió el pasado 9 de junio a la Ceremonia de Entrega de los
Premios de la Academia de Televisión celebrada en Sevilla y se codeó con
los más grandes.
Julián Lara con Buenafuente
Julián Lara con Carlos Herrera
Julián con el productor de cine Andrés Vicente Gómez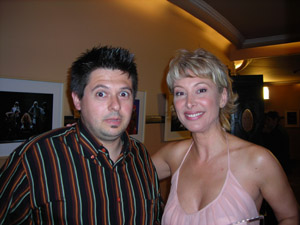 Julián con Teresa Viejo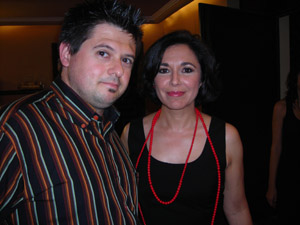 Con Isabel Gemio
JULIAN LARA AND LISA ROD WERE ATTENDING THE EVENT OF THE DAY OF THE CITY OF SEVILLA ON MAY 30TH, THE PLACE WAS FULL OF IMPORTANT PEOPLE OF THE POLITICS AND CULTURE, AMONG THEM WAS THE MAJOR OF SEVILLA MR. ALFREDO SÁNCHEZ MONTESEIRÍN AND ONE OF OUR MOST IMPORTANT SEVILLIAN ACTRESS IN THE WORLD: PAZ VEGA, WHO WAS ONE OF THE AWARDED PERSONS IN THE EVENT.
HERE YOU CAN SEE THE PICTURES OF THE RECENT VISIT OF JULIAN LARA AND HIS ENTOURAGE TO THE VILLAGE OF HIGUERA DE LA SIERRA (HUELVA) WHERE WERE SCREENED TWO JULIÁN'S MOVIES: EVIL NIGHT AND KILLING TWICE. AS YOU SEE
THEY FEED US SO WELL WHILE OUR TIME THERE AND WE THANK YOU VERY MUCH ROCIO
AND OSCAR, AS WELL AS THE OTHER PEOPLE.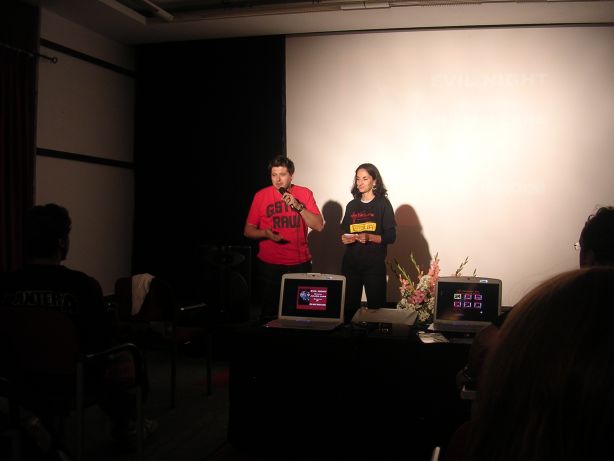 YA PUEDES VER LAS FOTOS DE JULIÁN LARA Y LISA ROD EN EL PASADO FESTIVAL DE
CINE ESPAÑOL DE MÁLAGA, HAZ CLICK AQUÍ O VE AL APARTADO DE LOS FESTIVALES
YOU CAN ALREADY SEE THE PICTURES OF THE JULIÁN LARA'S APPEARANCE AT THE EROTIC FILM FESTIVAL IN MADRID LAST WEEKEND OF JUNE. YOU CAN SEE HERE JULIAN NEXT TO LISA ROD WITH PORNSTAR NACHO VIDAL, PORN FILMMAKER NARCÍS BOSCH, STARLETTES SUCH AS SOPHIE EVANS AND DUNIA MONTENEGRO, AND GUILLERMO HERNÁIZ AS WELL, WHO IS THE DIRECTOR OF THE EROTIC MAGAZINE "PRIMERA
LÍNEA" WHICH WAS CELEBRATING THEIR 23 BIRTHDAY ON THE MARKET.
JULIAN APPEARS ON THE SPANISH MAGAZINE "PRIMERA LINEA", ON THE ISSUE OF JULY, WHICH IS NOW ON SALE. YOU COULD READ HERE THE REPRODUCTION OF THE FIRST POST OF JULIAN'S BLOG, THE BLOG THAT ACTUALLY JULIAN WRITES ON THE CLUB CANALLA WEBSITE. MORE INFO ON: www.clubcanalla.com
JULIÁN LARA WILL BE HELDING THE UPCOMING EROTIC FILM FESTIVAL IN MADRID FROM JUNE 26 TO 28. THE LATEST JULIÁN LARA'S MOVIE "KILLING TWICE" WILL BE SCREENED AT THE CLUB CANALLA TENT ON FRIDAY 27th AT 10 PM. FOR MORE INFO:
www.ficeb.com
DON'T MISS IT.

-JULIÁN IS APPEARING THESE DAYS ON THE TV SHOW "TALLER DE CINE" ON CANAL+, ON THE PROGRAMME DEDICATED TO JUAN CARLOS FRESNADILLO (DIRECTOR OF "28 WEEKS LATER") AND ENRIQUE LÓPEZ LAVIGNE. JULIÁN HAS A BIEF APPEARING TO THE END OF THE SHOW, BUT DON'T MISS IT, BECAUSE IT'S TOO FUNNY.

-JULIÁN IS ALSO WRITING HIS OWN BLOG AT THE HOT AND SPICY WEBSITE: WWW.CLUBCANALLA.COM
JULIÁN WRITES HIS OWN STUFF OFTEN, AND WE COULD SAY THAT HIS BLOG IS KING LIKE A COMPLEMENT TO THAT NEWS SECTION. GO AND TAKE A LOOK TO HIS HAPPENINGS!

TO READ A MORE DETAILED CHRONICLE OF WHAT HAPPENED IN THE CANNES FILM FESTIVAL, PLEASE GO TO THE JULIÁN LARA'S BLOG INTO THE CLUB CANALLA WEBSITE, GO HERE:
http://www.clubcanalla.com/web/deadhunter/